Caseus Montanus
International Association for the Safeguarding and the Valorisation of Mountain Cheese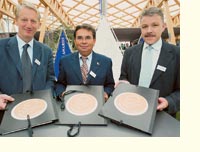 On the 4th September 2002, representatives of the Italian, French and Swiss cheese cultures founded the international association for the safeguarding and the valorisation of mountain cheese.
The purpose of the association is to promote the mountain economy, in particular those activities related to cheese production.

The association has its head office in Saint Christophe in the Aosta valley.
The realisation that increasing globalisation is pushing mountain agriculture to the edge of economic survival was the impetus which drove us to found CASEUS MONTANUS. These food products, produced under difficult circumstances in the mountain regions, will only receive the valuable market acceptance they justly deserve if all those concerned combine their efforts.
Food produce from the mountain regions have unique quality arguments in their favour and enjoy the goodwill of consumers.
CASEUS MONTANUS is working on projects aimed at bringing consumers and producers closer together and strengthening mutual confidence. CASEUS MONTANUS deserves your support, too.
---

Registration form CASEUS MONTANUS membership (PDF 81 kB)